Willkommen in unserer Mediathek!
In dieser Rubrik findet ihr die Aufnahmen unserer Bosskills und des Rat von Dalaran PodCasts!
YouTube
Hier findet ihr alle Bosskills des heroischen Modus vom Content-Raid I und relavante Endbosse des normalen Modus seit Wrath of the Lich King.
Kommt und schaut euch nachträglich unsere ersten Kills, mit allem was dazugehört, an… einige waren wirklich spektakulär knapp!
Des Weiteren findet ihr unter der Playlist "Podcast – Der Rat von Dalaran" alle Gesprächsrunden vom Moderatoren-Duo Wish und Thanopstru.
 Podcast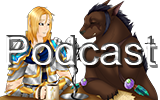 Der Podcast wurde von Wish und Thanopstru ins Leben gerufen, mit dem Ziel die Gruppen des RvD genauer vorzustellen und
so die Community untereinander bekannt(er) zu machen.
Zusätzlich dazu wurde der "Öffentliche Cast" erstellt, in dem allgemeine Themen zu World of Warcraft diskutiert werden.
Falls ihr Interesse habt eure Gruppe via des PodCasts vorzustellen oder euch für einen öffentlichen Cast bewerben möchtet, schaut >hier< vorbei und schreibt uns einen kleinen
Text, in dem ihr euch näher beschreibt!